Lap Desks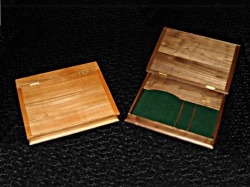 The definition of Elegant is: Stylishly graceful and showing sophistication and good taste in appearance and behavior. This description fits Steven's line of lap desks. Elegant yet functional and comfortable, lap desks were once the laptops of the day. Designed to be stored on a table or chest top and carried to the fireplace or lamp light when writing a letter, this was a time when the written word was the most powerful communication tool. Pictured from left: Kentucky Coffee Tree and American Black Walnet. Feel free to contact the Studio for pricing and more details.

---
Wood Pocket Watches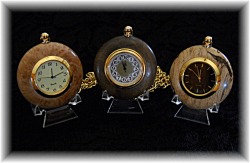 Wood Pocket Watches are a unique gift and may be carried in a pocket or displayed on a stand as a nice desk accessory. With a variety of face styles and unlimited wood characteristics, these are truly one of a kind possessions. Pictured left to right: Red Maple Burl, lightening struck Poplar and Spalted Beech (from the farm).
Pocket Watches start at $40


---
Bottle Stoppers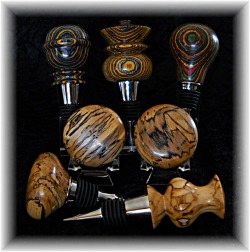 A great gift for wine lovers and gourmet enthusiasts (for Olive Oil bottles) these stoppers offer a really unique way to enhance their (or your) dining experience. They look good on a Kentucky Bourbon Bottle, too. Available in many wood species, the three across the top are various Colorwoods, the one in the lower right corner is Bethlehem Olive Wood, and the other three are Spalted Beech. Bottle Stoppers start at $45.00.
---
Letter Openers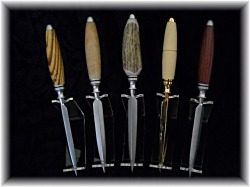 Letter Openers are a very popular gift item and are available in Satin Silver or Gold. Pictured from left is Zebra Wood, Maple Burl, Deer Antler, Holly and Purple Heart. Letter openers start at $35.00
---
Micro Clock Necklaces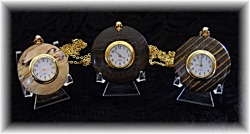 These necklaces have proven quite popular with the ladies. Similar to the Pocket Watches but smaller, lighter and designed to be worn around the neck, these make a striking statement. From left to right: Spalted Beech, Irish Bog Oak (about 1500 years old) and Colorwood Southwest.
---
There are many diverse items available, please feel free to contact the Studio for more information.