A small sampling of available pens.
Slimline Pens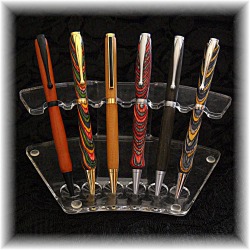 The Slimline series is probably the most popular line. Practical and affordable, you can own a very unique pen at an affordable price. Pictured from left to right are, Pink Ivory in Matte Black, Colorwood Oasis in Gold, Ancient Kauri in Gold with stripe clip, Colorwood Night Fire in Satin Silver, Ancient Irish Bog Oak in Satin Silver and Colorwood Oceana in Rhodium Platinum. Slimlines have a twist mechanism that uses a standard Cross refill. Slimlines start at $30.
---
Designer Twist Pens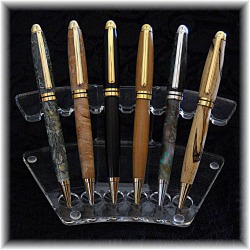 The Designer Twist series is also one of the most popular lines. Heavier, yet elegant and practical, the Designer Twist makes a handsome statement when in hand, and with it's twist mechanism it is very comfortable to carry and use. Pictured from left to right Money Pen (actual shredded U.S. currency) in Gold, Maple Burl in Gold, African Blackwood in Gold, Ancient Kauri (this piece is 50,000 years old), Acrylic in Rhodium Platinum and Spalted Beech in Gold. Designer Twists start at $45.00.
---
Designer Series Pens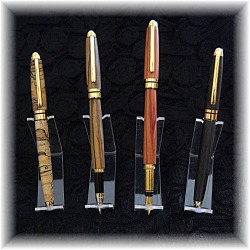 The Designer line is for the person who wants a striking pen in THE classic style. Available in satin silver and gold, as either a fountain or roller ball, this style is Steven's personal favorite. The roller ball uses Pilot refills and the fountain uses standard cartridges. Pictured from left to right is: Spalted Beech, Olive Wood Roller Ball, Tulip wood Fountain, and Roman Bog Oak. The Roman Bog Oak is salvaged wood from an archeological dig in London, England and was once part of the ancient Roman Docks on the Thames River in the first century A.D. The Olive Wood comes from the Bethlehem area and is salvaged from the pruning's of the trees which keeps them healthy and productive. This is Steven's personal pen and has been carried quite a bit. The Designer Line starts at $55.00.
---
Bullet Pens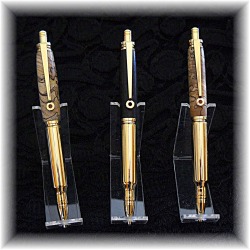 The Bullet Pen is a replica of an actual 30 cal. shell. Striking in appearance and very functional with a click mechanism, this pen is the ideal gift for the hunter or shooter. From left to right: Spalted Maple, Roman Bog Oak and Spalted Maple. Bullet Pens start at $60.00
---
Civil War Tribute Pen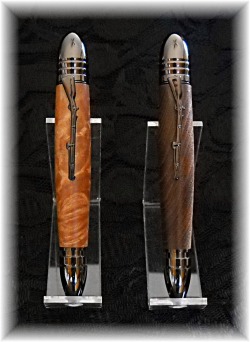 Own a Piece of History
Inspired by the era when correspondence was an art form and craftsmanship was honored. With replicas of Civil War era bullets and musket, this pen is ready to help you create your own chapter in history. A perfect gift for Civil War enthusiasts, gun aficionados, history buffs & outdoorsmen. The top cap is an exact replica of the .58 caliber Minnie' Ball, the tip is an exact replica of a .44 caliber 1860 Colt Army Revolver and the clip is a Model 1861 Springfield Musket. The left pen is in Maple Burl and the right is American Black Walnut. Civil War Pens start at $60.00.
---
Teachers Pen and Base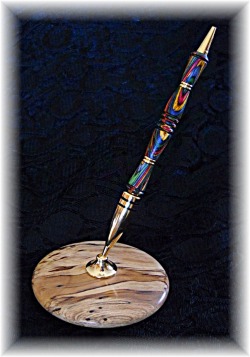 The Teachers Pen is one of Steven's favorite specialty pens; maybe because Dawn is a teacher. It writes red on one end and black on the other for quick grading of those papers. This base is Spalted Beech and the pen is Colorwood Oasis. Steven often uses three different types of wood to make it easy to tell the red end from the black end. Available in any combination of woods with Gold or Satin Silver mechanisms, the Teachers Pen starts at $40 and the base at $35.
---
Corporate Gifts and Personal Statements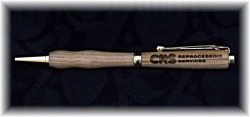 Laser engraving of company logos, team names, personal names or anything you might need is available. Contact the Studio for pricing.
---
There are many pen styles available, please feel free to contact the Studio for details.